How to make a sultry Manhattan cocktail with pisco
Any cocktail origin story that begins with "according to legend" might as well be replaced with, "since you can't prove what the real story is, I'm going to tell this tale every time someone asks about it." 
If you Google "El Capitán cocktail," you get the same silly tale of horseback officers blending their local spirit with the exotic Italian vermouth and stumbling across this Peruvian pisco Manhattan riff.
Pisco is a South American brandy, made from a series of unusual grapes that thrive in the region's extreme climate. Although some interesting examples of modern pisco are produced in Chile, to the hardcore cocktail and spirit enthusiast, pisco equals Peru. The traditional production method, enshrined by law in Peru, ensures a brandy that's not unlike what would have been traded and consumed in the mid-nineteenth century. 
The fraught colonial past that leads to it aside, modern Peruvian culinary culture is incredibly unique. A mash-up of cross influences over centuries, its dishes manage to pluck the finest components from each of the elements of which it's composed. Acclaimed chefs bring a rigorous approach to its cuisine learned in the finest kitchens of France and Spain, and focus on the abundantly diverse range of products from rainforests, high plains, deserts, and seacoasts. And as much as Peru is of South America, she also faces East. Japanese and Chinese influences through migration and trade are cherished and welcomed onto the plate. 
However it's the European penchant for cultivation and distillation that gives rise to the native spirit, pisco.
Prior to the opening of the Panama Canal in 1914, Lima was a waypoint for American ships bringing mail, goods, workers, and even tourists between the coastal cities of New York, Washington, and San Francisco. Here again Peruvians pulled the best from this contact, one of the world's greatest inventions in hospitality, the cocktail, and adopted it as their own. 
Riffing off a whiskey sour, Victor Morris produced the pisco sour at the bar he opened around 1915. Although American by birth, Morris had traveled to Peru for work in 1904 and never left. His drink was launched into the cocktail cannon for good and promoted pisco to new heights even though that spirit had been in San Francisco and New York bars for some time by then. So although it's quick and clever to say that the captains of the Andean highlands near Puno mixed this evocative and sophisticated sipper, it's far more reasonable to assume it was mixed in a big city bar by a tender with some exposure to the Manhattan recipe. But if the inexactness of that story isn't what you're looking for, then by all means, consider it a Peruvian legend.
What you'll need
El Capitán
Ingredients
1 ½ oz.  Pisco Quebranta brandy
1 ½ oz. sweet vermouth
Dash of aromatic bitters
Instructions
Stir over ice and strain into a chilled cocktail glass
Garnish with cherries or a twist of orange
---
Join our next virtual cocktail class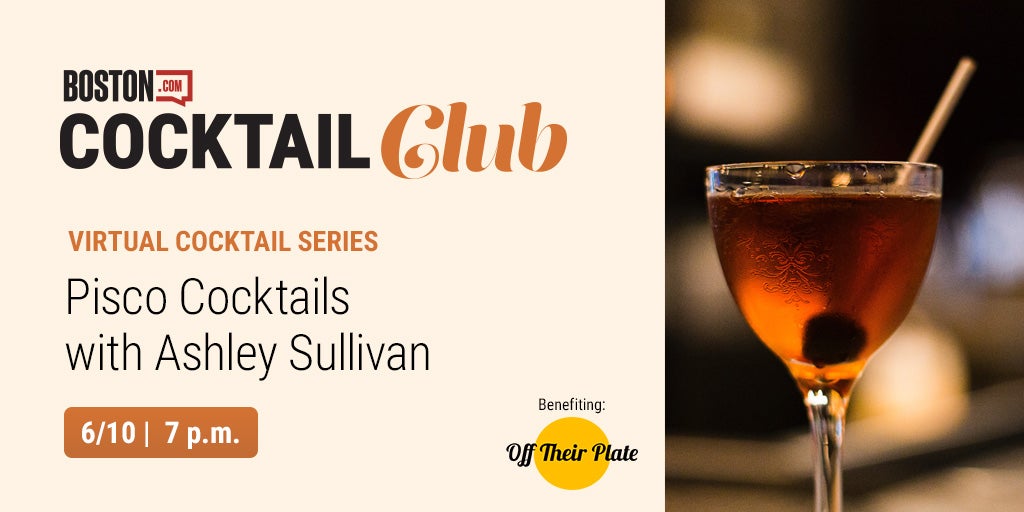 Join us Thursday, June 10, at 7 p.m. for Boston.com's Cocktail Club with host Jackson Cannon and returning guest bartender Ashley Sullivan. This week they'll be making cocktails with pisco, the ever-intriguing Peruvian brandy, catching up about the Boston restaurant and bar scene, and sharing tips the pros use to make great drinks at home. They'll be mixing the classic pisco sour and a sultry take on the Manhattan cocktail known as El Capitán. Everything you'll need is listed here with a link to purchase your Boston.com cocktail kit through Gordon's Fine Wine and Spirits.
Please note: There will be no Cocktail Club virtual class the week of June 17.
We're looking for your feedback for our summer schedule. Take our survey below or e-mail [email protected].
Newsletter Signup
Stay up to date on all the latest news from Boston.com
Tagged:
cocktail
Manhattan
pisco
sultry